Kurdistan votes in independence referendum
Curtesy by NowThis World
Price: 00
Enquiry
Subscribe
---
Iraqi Kurdistan, officially called the Kurdistan Region by the Iraqi constitution, is a proto-state located in the north of Iraq and constitutes the country's only autonomous region.
Calling a referendum on Kurdish independence in Iraq was the easy part. The difficulty after the vote on September 25th concerns the route ahead. The vote took place in the three provinces that make up Iraqi Kurdistan, and in the contiguous Iraqi regions that Kurdish forces took from Islamic State (IS).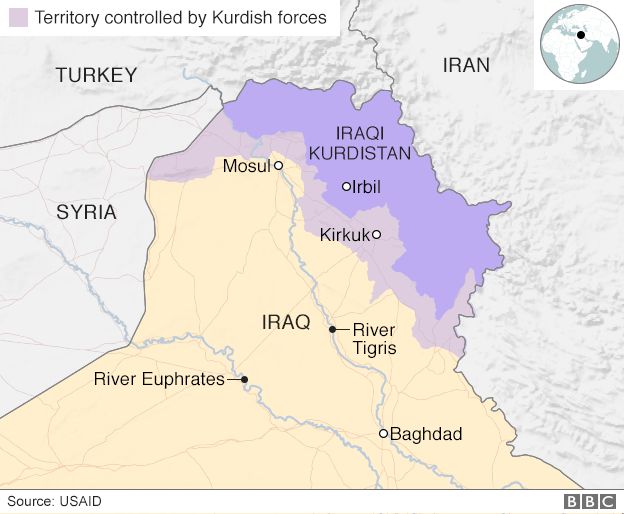 It was a resounding success for the pro-independence movement, with the electoral commission claiming that 93% of the 3.3m votes cast were in favour. But though billed as a step towards statehood, the result is non-binding. Iraqi leaders, who had previously agreed to negotiations on the status of the territory, now reject them on the grounds that the referendum was unilateral, unconstitutional and divisive. On September 29th the Iraqi government stopped international flights from using the airport in Erbil. Iraq's neighbours are also vowing to torpedo any Kurdish attempt to go it alone. Iran has stopped flights to the region and Turkey has closed one of its crossings to the landlocked territory, which relies heavily on imports. Western countries, fearing that the broader alliance against IS could unravel, have said they will not rush to the Kurds' defence. As they aspire to statehood, could the Iraqi Kurds—as Haider al-Abadi, the prime minister in Baghdad, has threatened to ensure—now lose everything?
Spanning four countries and numbering 30m, Kurds have sought their own state for almost 140 years. In 1880 Sheikh Ubaydullah al-Nahri, a religious and tribal chief, led a group of tribes called the Kurdish League in a revolt on the borderlands between the Ottoman and Persian empires. In 1925, aggrieved by a carve-up of the Ottoman empire that gave the Kurds nothing, another leader, Sheikh Said, led a Kurdish rebellion against the nascent Turkish republic. In 1946 Mustafa Barzani helped declare an independent Kurdish republic in Mahabad, in north-west Iran. Thereafter he and his son, Masoud Barzani (pictured), the current president of the Kurdish enclave in Iraq, sparred repeatedly with Saddam Hussein for more powers. But their fledgling state always collapsed, thanks to military offensives led by Arabs, Turks or Persians, and the withholding of recognition by global powers.
Full course video lecture available
Available Packages
Yearly Current Affairs Topics Analysis video lectures in Hindi @ 2500/-


Yearly Current Affairs Topics Analysis video lectures in English @ 2500/-


Yearly Current Affairs Topics Analysis, Strategy, with Expected MCQs video lectures in Hindi @ 5,000/-
For Subscribe online vedios deposited amount in the account given below
Payment Option are: BHIM app | UPI app | Net Banking | ATM to ATM Transfer
ICICI BANK
A/C No. : 157105500244 (Current)
IFSC : ICIC0001571
Branch : Kareli, Allahabad
Beneficiary : Dheer Singh Rajput
UBI BANK
A/C No. : 1001010097578 (Saving)
IFSC : UTBI0ALU539
Branch : Allahpur, Allahabad
Beneficiary : Dheer Singh Rajput
Bank of Baroda
A/C No. : 22750100006086 (Saving)
IFSC : BARB0INDHAU
Branch : Hauzkhas, New Delhi
Beneficiary : Dheer Singh Rajput
For more detail contact our course consellor +91 8756987953